Photographs of a dead sperm whale found in the Gulf of Mexico a few weeks after the BP Deepwater disaster have
reignited a debate
as to the extent of the oil spill damage and the lasting consequences of the
ecological tragedy
.
On Wednesday, environmental organization Greenpeace released
a series of long-anticipated photographs
of a bloated and burned juvenile sperm whale that had been found dead on June 15, 2010 -- seven weeks after the start of the BP Deepwater Horizon oil spill disaster: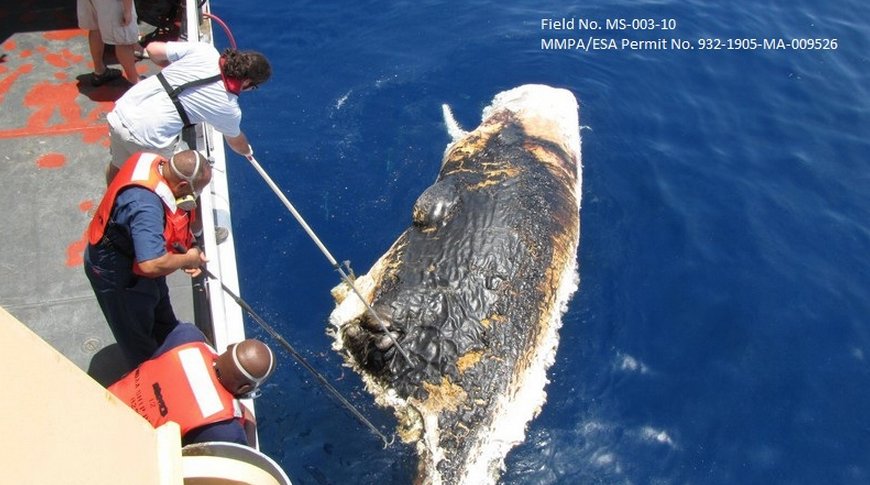 The Guardian notes
:
It was the first confirmed sighting of a dead whale since the BP oil spill… a time of huge public interest in the fate of whales, dolphins, sea turtles and other threatened animals -– and yet US government officials suppressed the first reports of the discovery and blocked all images until now.
The pictures had been taken by researchers on the ship Pisces about 77 miles south from the site of the Deepwater Horizon. However, as Greenpeace learned, the people on the boat were told by the National Oceanic and Atmospheric Administration (NOAA) not to make the photos of the whale public.
"I just spoke to the command center in Houma and they have asked that you all not post the photos to anyone as they are part of an official investigation," said a
NOAA staffer to the people on the boat
, according to a June 2010 email obtained by Mother Jones.
Nonetheless,
Mother Jones notes
that at least
one NOAA photograph
of the whale had appeared online at the time and a school teacher that had been aboard the ship
posted some of her own photos
on her blog.
Still, the photos were not widely circulated -- and that, says Greenpeace, is unsettling.
"The government never published this album of photographs and that's sort of … weird that there were no government photographs released," Kert Davies, the group's research director, told The Huffington Post. "What we're concerned about is … that there had been that clamp down on information around the whale."
NOAA finally sent the pictures to Greenpeace a couple of weeks ago, following a Freedom of Information Act request filed in 2010 that sought evidence of the spill's impact on endangered species.