After almost two years of waiting, Apple fans can finally say it: Five is alive.
At a media event in San Francisco on Wednesday, Apple
introduced the long-awaited iPhone 5
, a redesigned iPhone that is taller and thinner than last year's iPhone 4S and that adds a larger, 4.0-inch display. That boost in screen size represents the first-ever change to the longstanding 3.5-inch display that graced the original iPhone in 2007 and every iPhone after it -- and is perhaps a response to the larger displays on Samsung and HTC smartphones.
Indeed, the iPhone 5 is full of cosmetic changes: At 7.6 millimeters thick and weighing 112 grams, the iPhone goes from a relatively heavy and short smartphone to one of the thinnest and lightest available. It is now closer in screen size and dimensions to the larger, more lightweight Android smartphones that have been chasing it for years.
See Also:
Galaxy S III Sales Trump iPhone To Becomes Best-Selling U.S. Smartphone (Samsung Exec to Apple Exec, "1 Billion Dollars! Do You Want It In Small Or Large Bills?)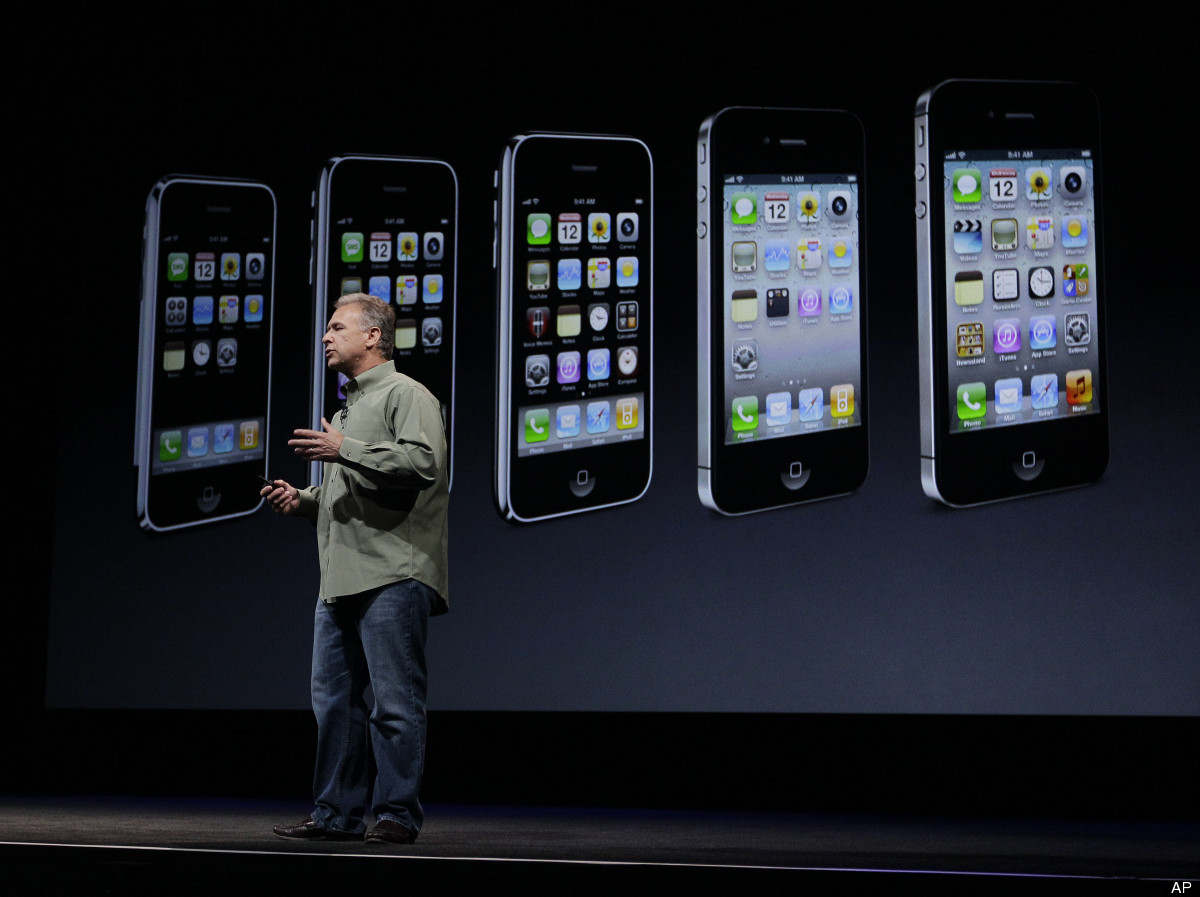 Phil Schiller, Apple's senior vice president of worldwide marketing, speaks on stage during an introduction of the new iPhone 5 at an Apple event in San Francisco, Wednesday Sept. 12, 2012.
The iPhone 5 also has multiple internal and software changes, including 4G LTE capability, which will allow it to connect to the faster cellular network that carriers like Verizon and AT&T have been aggressively advertising; a new A6 processor, a chip that Apple's Phil Schiller claimed was twice as fast as the A5 processor in the iPhone 4S; iOS 6, the
next-generation mobile operating system with new maps and improvements to Siri
detailed in June; and enhancements to the battery life as well as the speed and quality of the rear camera.
Apple also, as expected, changed the size of the dock connector on the bottom of the phone, making it 80 percent smaller. The connecting cord (which Apple calls "Lightning," as a companion to its Thunderbolt connector) is far smaller than its predecessor, a wide, thick connector that debuted with the original iPod. For old iPhone and iPod accessories like speaker docks and car chargers that use the "classic" connector, Apple will sell an adapter. The
adapter will sell
for $29, or $39 for an adapter with a short cable.
Though the iPhone 5 was certainly the star of Apple's show, the Cupertino company unveiled a few other new products, too. The
iTunes desktop application has been overhauled
with a new layout for the iTunes Store, easier playlist management, and integration with iCloud. It will be available for free download late October.
A thinner and lighter iPod Nano, with a larger touchscreen display and home button, also debuted, as did a new iPod Touch, which will come with the same 4-inch Retina display as the iPhone 5, improved front and rear cameras, and a faster graphics processor. The new iPod Touch will start at $299 for a 32GB model, while the new iPod Nano comes with 16GB storage for $149. Both will go on sale in October.
Apple also introduced an update to its iconic, yet oft-ridiculed, line of headphones. It has redesigned its "earbuds" into what it calls "earpods," which will be included with new iPods and iPhones and are also available as a standalone purchase.
The immediate focus after the event, however, will likely be on the cosmetic changes to the iPhone 5: the new height, a new two-tone design on the back cover, and the larger screen. Many expected Apple to unveil the "iPhone 5," a device that would rethink the design of the iPhone 4 and bring a larger display, at last year's iPhone event. When Apple instead introduced the iPhone 4S -- an iPhone with internal improvements and Siri, but no real exterior changes -- many were disappointed. This year, however, Apple did indeed change up both the design and the size of the display.
The iPhone is Apple's most important product financially,
making up about 60 percent of its revenue
. Having been surpassed in single-product sales for the first time by Samsung's Galaxy S III last month, and with Microsoft and Nokia committed to spending on advertising for the new Lumia 920, Apple will need consumers to embrace the redesign as much as they did the non-redesign of the smash hit iPhone 4S. (That is, perhaps, why the company chose to name its newest phone "the iPhone 5," and not simply "the new iPhone," as it did with the iPad. Since phone-shoppers have been waiting for "the iPhone 5" for well over a year, it already has a built-in audience).
The iPhone 5 will come in black or white, and a 16GB model will cost $199 with a new two-year contract. The iPhone 4S will start at $99 on contract, and the iPhone 4 will be free. (Say goodbye to the rounded corners of the iPhone 3GS, in other words).
Pre-orders will begin on Friday, Sept. 14, and will start shipping and be available in stores on Friday, Sept. 21.
Five is, indeed, alive: Now, Apple will find out if its larger iPhone can not only live, but thrive.