Comment:
Folks these stories are getting too numerous to keep up with. First the Cold Stone Creamy lady, then the guy in Florida who killed himself cause the President won, and now this fool and not to mention others! Racism has to be a disease, I say this cause you now even see a lot of Black people saying and doing things that only true racist would do.
DENVER -- A suburban Denver man has been arrested after telling his therapist he wanted to shoot children, kill people on Halloween and kill President Barack Obama, federal court records show.
Mitchell Kenneth Kusick, of Westminster, was being held Tuesday on suspicion of a federal charge of threats against a president. He identified himself as a student at Colorado Mesa University in western Colorado, investigators said.
According to KUSA-TV in Denver (
HTTP://ON9NEWS.TV/T2RBYC
), Jefferson County court records show he told his therapist about wanting to shoot students at a trick-or-treat event at Standley Lake High School.
Federal court records say Kusick said he took a shotgun from his aunt's house and tried to buy ammunition. He told his therapist on Oct. 29 about his plan and allegedly said he wanted to go down in history as the "guy who killed Obama." His comments came days before the president held a campaign rally in Boulder.
Kusick also said he was obsessed with the deadly shootings at Columbine High School and Virginia Tech, according to court records.
The therapist called police, and Kusick was placed on a mental health hold at a hospital.
According to court records, Kusick told investigators he also studied this summer's Aurora movie theater shooting in which 12 people were killed, and he talked about what the gunman did wrong.
Online court records didn't list the name of Kusick's attorney.
A detention hearing is scheduled Friday.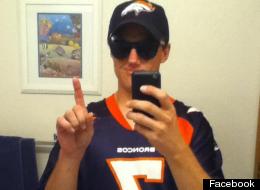 Photo of Mitch Kusick, Westminster man who allegedly wanted to shoot children, kill people on Halloween and kill President Barack Obama.